Quote:
Originally Posted by
Moland
I'm new to this forum. I've been reading allot of past postings found here. Lots of great information. First 5th I've ever had and intend on it being the only one. Purchased 2014 38fl. One of the things I asked the the sales manager was about the annual inspection per the owners manual for the 5yr structural warranty. He stated that it was no longer a requirement. ?
He is absolutely correct about the required annual inspection. It is still your responsibility to maintain your RV to prevent damage such as water damage due to not caulking the unit properly or leaky seals. It's just not required to document it and send it to Redwood.
__________________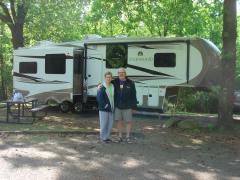 Rick and Mindy
Retired
2013 Redwood 31SL, 2011 Ford F350 SRW, 6.7, Crew Cab with Firestone Bags, Titan Disc Brakes