Quote:
Originally Posted by
atom ant
OH that looks Sweeet! They go perfect! and I love the wood on the chairs. I assume you got them because they are more comfortable, and perhaps actual leather?

Looks like plenty of room, and possible room for a lamp on the side table!
We did get them because they are much more comfy then the originals. They are much more firm. They are not real leather, they are called ultra leather which according to Lambright they are better than leather and they are not cold when you sit in them. I have tailbone problems so the firm seating feels better to me.
__________________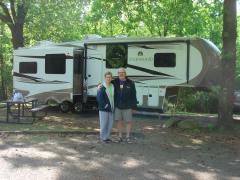 Rick and Mindy
Retired
2013 Redwood 31SL, 2011 Ford F350 SRW, 6.7, Crew Cab with Firestone Bags, Titan Disc Brakes