2015 Denver RV Show
---
I am amazed at how many truck campers and bumper pulls are on display. Lots of small stuff, only 1 Redwood 38GK, 2 Mobile Suites, 1 Landmark & 1 Lifestyle.
Only 5-8 true class A's.

BTW, the mobile suites are being discounted $40k!

Surprised at how well this has been attended.

Met Jeff Howe with Heartland and he indicated that Thor will be implementing economies of scale with the DRV purchase. It seems that over time the high end Thor 5th wheels will become more and more similar.
__________________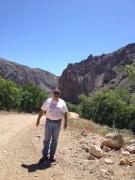 Ron & Margaret
2014 Ram 3500 DRW 6.7, Aisin, 4.10
"Pequod" 2015 Redwood 38GK