This is a question for all of you with Fords. I'm going to be putting Airlift Airbags and the wireless compressor on my 2012 F350 shortly (when the weather gets warmer. 38 degrees, drizzling and cold is NOT conducive to truck upgrades in the driveway).



For those of you that have an on-board compressor, where did you mount it ? I don't want to mount it in the cab, and I'm not real keen on drilling into a crossmember or frame to mount it underneath. I'm considering mounting the compressor and manifold on the bed side wall on the driver's side. Curious to knwo where the rest of you put it.



Thanks for the info !!
__________________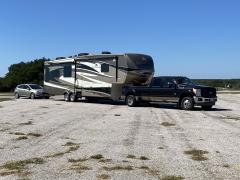 Vaughan & Tracy 2013 RW 36RL, 2013 F350 DRW CC, 2016 Focus. MorRyde IS, MorRyde pinbox, disc brakes, Comfort Ride Hitch. "Life is to be embraced, Grab it with both arms ! "