Quote:
Originally Posted by sinder
We are in Chisago City Minnesota staying on my sister's 5 acre farm. Â*The weather has been cool in the mornings, and on an occasion we will turn on the electric fireplace to quickly warm up the place. Â*In early June we did run the heater a couple of times in the morning to warm up the place. Â*Rick and Mindy where are you staying in MN?
We are primarily going up to the Minneapolis area to see our daughter and her family. On the way we will spend some time at Kiesler's Campground and Rv Park in Waseca. We workkamped there for 4 years and want to see old friends and past co-workers. Where is Cisago in relation to Minneapolis? Our daughter actually lives in Blaine. We are looking forward to some cooler weather as we have been experiencing 100's and High humidity here in Louisiana. Itching to get away!
__________________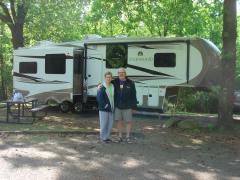 Rick and Mindy
Retired
2013 Redwood 31SL, 2011 Ford F350 SRW, 6.7, Crew Cab with Firestone Bags, Titan Disc Brakes