Quote:
Originally Posted by
Shane Wood
Ours came with the regular sofa with the pull out drawer
The dealer gave us an air matress that is built for a sofa. I believe from redwwood.You take off the cushions and it is designed to sit where the cushions are for the 1st 2 1/2 ft and then on the floor for the other 5 ft. It takes up 2 ft less of floor space when set up.stores in drawer when not in use.
Unfortunately very comfortable so guests Don want to leave
We have a queen air mattress for 'just in case' visitors. It takes up every square inch of floor space in our 36FB living area.
If you happen to have guests.... and if you happen to have a camera handy, I'd love to see what your sleeper looks like. No hurry.
__________________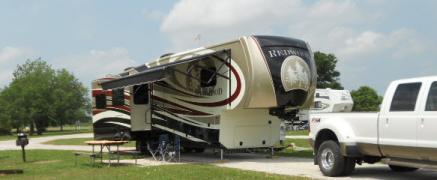 2014 RW36FB
2014 F-350 CC DRW, 25K Reese, Roll-n-Loc, Rhino Liner
'Half-timer' - Full time retired, tho!
Ken & Shelley