I would call the Service Center. 260-593-3850 They are open 7:00 am to 3:30 pm Central Time
If you can reach Andi Miles or Leonard Nielsen, either one should be able to help you. Make sure you have your VIN when you call as they will need that for parts info. Very nice people to deal with and try to bend over backwards to help an owner.
__________________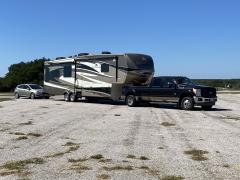 Vaughan & Tracy 2013 RW 36RL, 2013 F350 DRW CC, 2016 Focus. MorRyde IS, MorRyde pinbox, disc brakes, Comfort Ride Hitch. "Life is to be embraced, Grab it with both arms ! "