Norcold 1200 that's now too cold
---
Ok, my never cold has now decided that it really wants to make the whole refrigerator into a freezer. Have already replaced the thermistor but I'm beginning to think the new one is bad.

Have unit turned down to 2 and it's still 28 degrees in the fridge just in front of fins.

Any ideas ??
__________________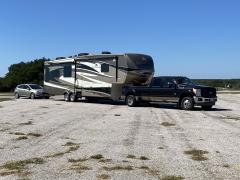 Vaughan & Tracy 2013 RW 36RL, 2013 F350 DRW CC, 2016 Focus. MorRyde IS, MorRyde pinbox, disc brakes, Comfort Ride Hitch. "Life is to be embraced, Grab it with both arms ! "